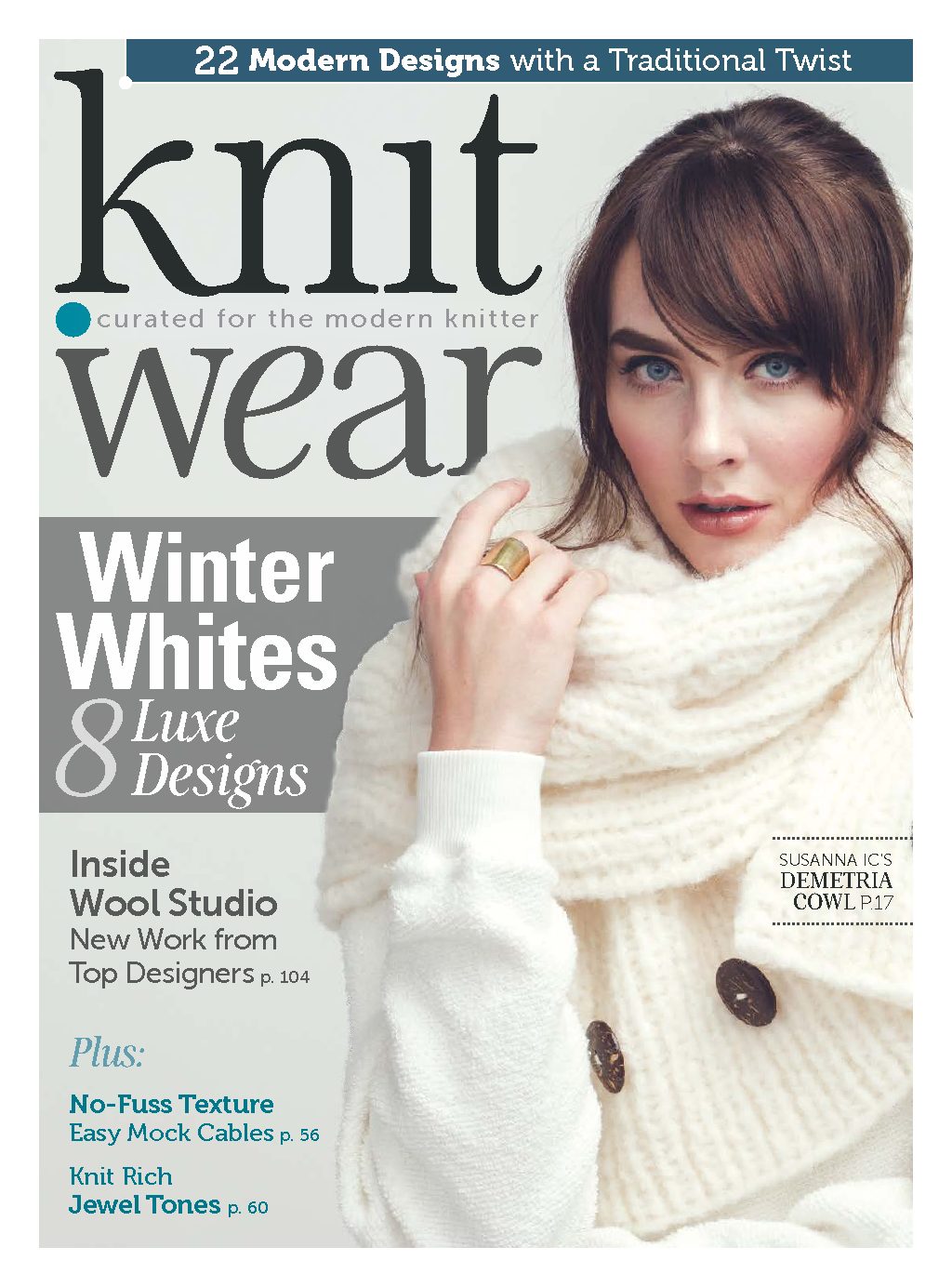 Today, we welcome to the newsstands the Fall/Winter 2017 issue of Knit.Wear and what a gorgeous issue it is! It features lush winter whites and the rich jewel tones of cypress and plum. It's a real thrill to be included with so many incredible designers. I'm fortunate to have 2 designs included in this issue. First, the Olwen Cardigan which is part of the Winter Whites story.
Danish modern in feel, Olwen combines a clean and striking post modern shape with soft, wintery texture. It is square and spare of form, but with all the rough edges polished off. Deep woven ribbing edges a subtle pillow-like diamond pattern to create an easy surface energy, while cleverly inset pockets provide striking detail. True to its Hygge inspiration, Olwen features a relaxed drop shoulder that reinforces its clean boxy lines and provides lots of room for layering. I-cord edges the pockets and creates after-though buttonholes at the front opening. It is worked in Berroco Ultra Alpaca, a smooth soft blend of alpaca and wool in #6208 "Couscous".
Second is the Lundbye Scarf, a simple ribbed scarf with reversible cables. This sample was knit by the ever talented Christine F. Thank you so much for your help, Christine!!
A skiff of snow on furrowed ground, a brook frozen in its tracks, the tracks of skaters gliding over ice, the silence and cleanliness that a fall of snow imparts to the world: these are the inspirations for Lundbye. With elegant restraint, Lundbye relies on a simple ribbed texture to carry a single, perfect cable that floats along one side. The cable is deeply ribbed and rhythmic, and reversible so that Lundbye can loop and wind and layer around the neck for coziness. A tubular cast on with its matching bind off begin and end Frosset, softening the edges with pure minimalism. Lundbye is worked in Yarn Manos del Uruguay Alegria in #A2552 "Foil"
Many thanks for the amazing work of Harper Point Photography and the incredible creative guidance of editor Meghan Babin. Here's to another happy collaboration!
SaveSave